Evaluation Notes
Recommendations
A quick caveat: I've provided the recommendations below not knowing the constraints and circumstances under which your website has been designed. When I point out that something seems undesirable or might be improved upon, I say so knowing that there may be good reasons why your organization has chosen that approach or solution.
My goal is to provide a frank assessment, while always remaining open to the possibility that I could be missing key information, which may make some recommendations less than ideal or unfeasible.
The home page
The home page has a prominent, auto-rotating carousel of images at the top.
It looks like you have Hotjar installed on the website — I would run a heatmap using Hotjar to see how much people are interacting with that carousel. How many are clicking through on any slides beyond the first one to view the content featured there? If you find it is very few, consider removing the carousel — the persistent movement can be distracting for visitors and make it harder for them to focus on the surrounding content.
In general, it's best to avoid using carousels. If the information in those carousel slides is important, place them on the page where everyone will see the information.
Overall, the content on the homepage is largely focused on events and special content.
But the events are very specific, and the aboretum has a huge variety of offerings — Why are these featured and not other offerings? Are the events that occupy the home page more important than evergreen (no pun intended) tasks like ticketing or membership? What processes are in place for prioritizing home page content?
As you plan for a potential website redesign, you might consider conducting a Top Tasks Analysis, which is a way to thoroughly assess the most valuable tasks on your website and objectively prioritize content. Once you have those top tasks, they can help determine the structure of the homepage and what content should live there.
In the meantime, it may be helpful to your visitors to structure the events and similar offerings on the home page according to who might be interested in those events.
If events will act as a core element of the homepage, consider grouping by audience to reduce cognitive load.
A father looking for family-friendly activities could then quickly sift through offerings less relevant to him, focusing on events that fall under a "Family" heading and ignoring podcasts or professional debates that would fall under a different category.
Also — an overarching usability issue on the site is the font size. Many visitors will skim the website; A minimum font size of 16 will help them absorb the information more quickly.
It's nice to see the arboretum using social proof on the home page, which suggests the arboretum has some feedback mechanisms in place that could inform future marketing efforts.
Audience feedback gives clues as to how the arboretum might differentiate itself.
This visitor's comment is a clue that could be used to build more content that connects with visitors. The Morton could go so far as to speak to weaker alternatives to visiting the arboretum.
To highlight research, take a problem-first approach
In some places, The Morton references environmental concerns.
It may be worth testing a more explicit problem-first approach. For those who share a concern for the environment, underscoring the challenges of climate change makes for an emotional appeal. However, it's easy to skip past the problem and present the solution — or The Morton's efforts to contribute to a solution — too soon.
In other words, rather than talking about the value of any climate-related or conservation research happening at The Morton, try to first talk about the dangers associated with those issues. Connecting on an emotional level may be a more effective way to promote research.
Navigation & Discoverability
There is a lot of content on The Morton website. The navigation may overwhelm some users.
To determine if navigation is actually a problem, I recommend tree testing. If you find that navigation may be unintuitive and prevent people from finding the information they need, I would follow up with an open card sort to uncover users' mental models, and then a closed card sort to finalize the navigation structure.
Finally, once any new navigation is put in place, I would run another tree test to be sure that the issues have been fully addressed.
Yes, ticketing is a bit of a "nightmare". As you evaluate CRMs, consider:
testing with users;

Finding a solution that does not require immediate log in or account creation

Give preference to one that integrates with other solutions.
Automatically directing all users to log in is an obstacle to be avoided. If someone wants to buy a one-time ticket, it's onerous to have to create an account.
Forms & Question Protocol
Does The Morton need to collect phone numbers?
Should someone buying tickets for a single visit or to attend "little acorns" one day have to share their phone number?
If you do require a phone number or home address, would it reassure the visitor if you told them on the form how their personal information will be used?
If all users must create an account, transparency becomes more vital.
Some users will be reluctant to share their personal information. I stumbled repeatedly trying to create an account without providing a home address, which didn't appear to be required.
Does The Morton Arboretum require people who purchase tickets on-site to share their phone number and home address?
If not, why should the website require that information?
Newsletter sign up & lifecycle emails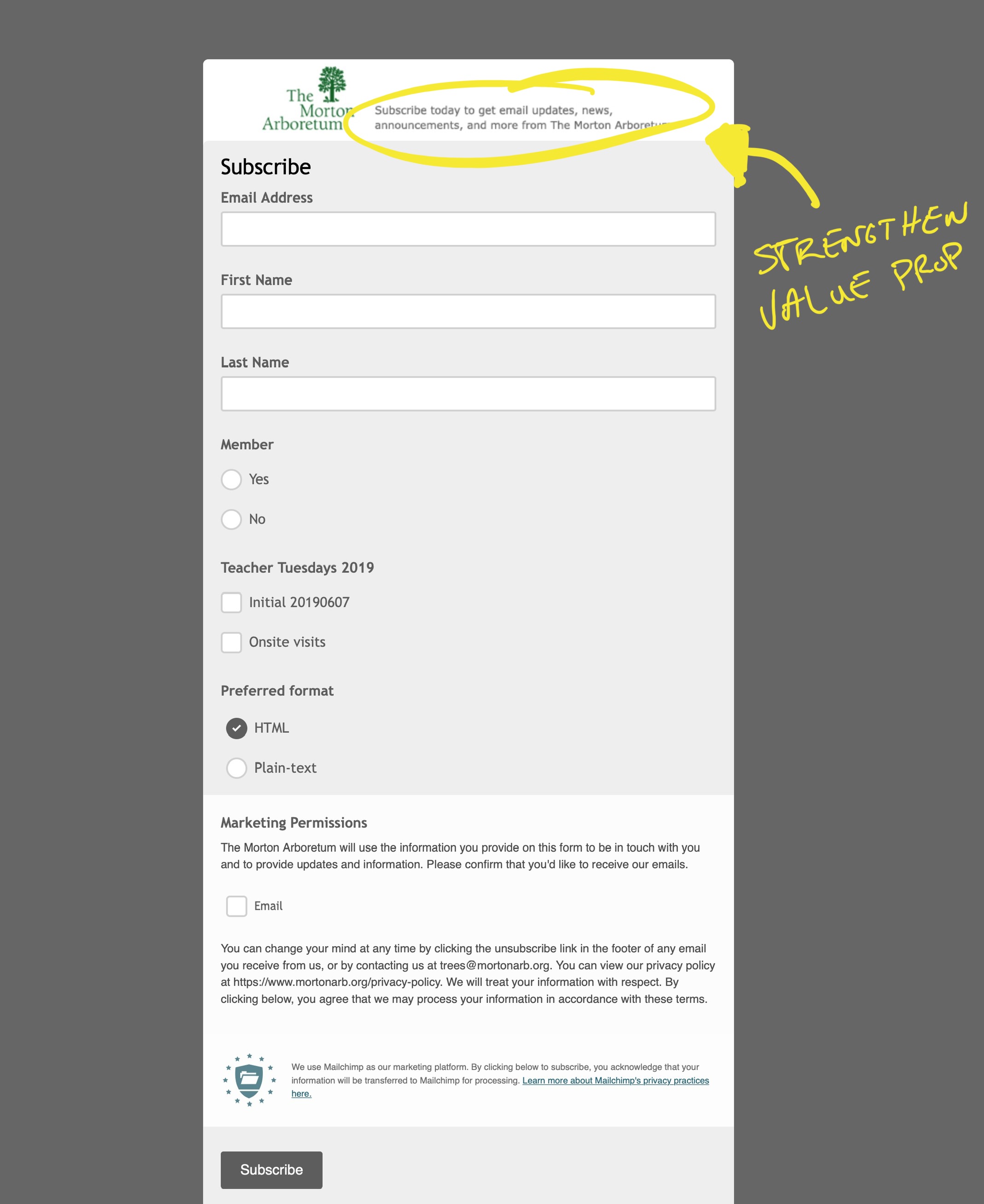 The signup page I found for The Morton's newsletter was a standard Mailchimp form.
Consider developing a web page for the newsletter that better communicates the value to the prospective subscriber.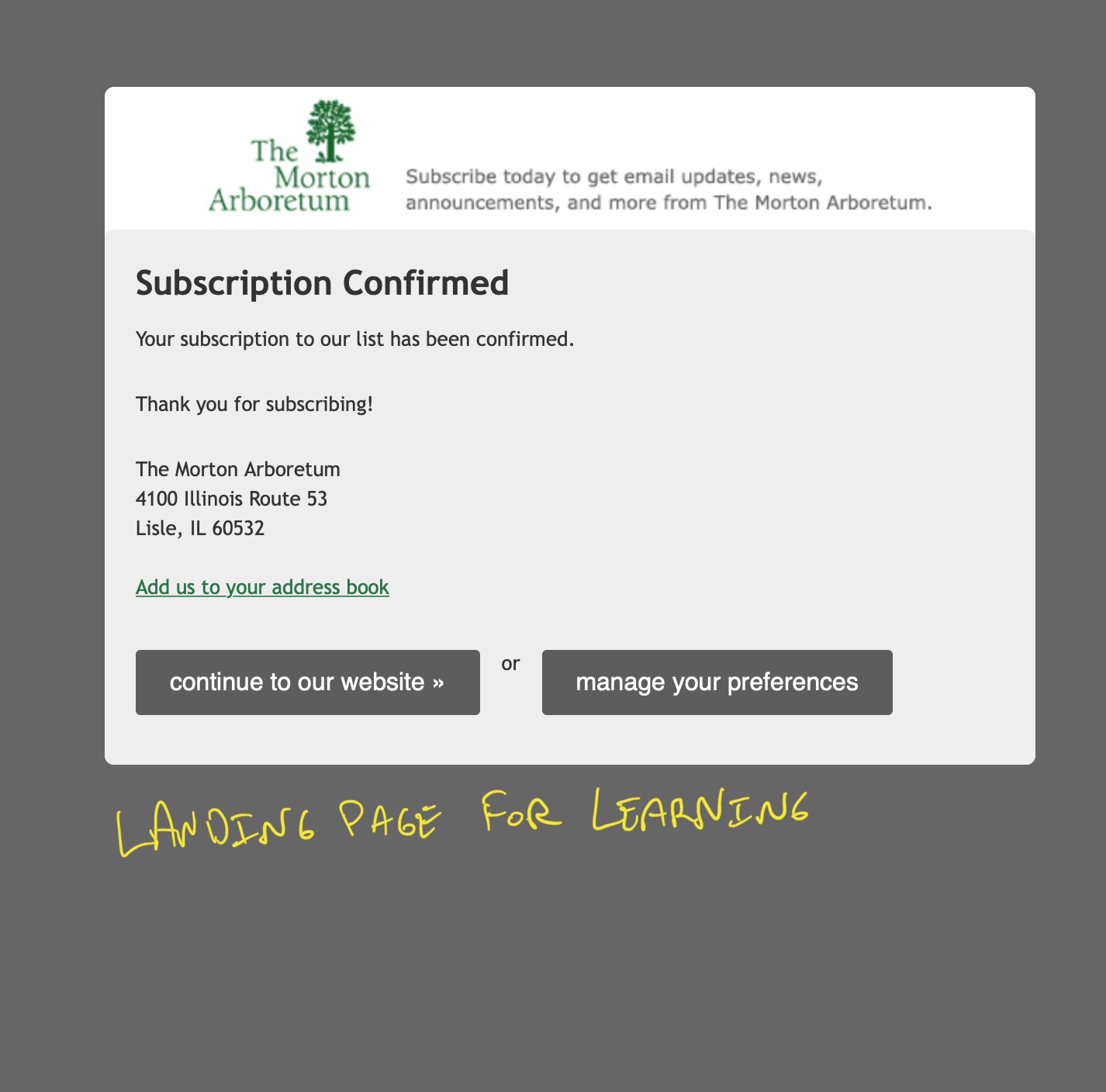 Once someone subscribes they receive a default message confirming their subscription.
Consider redirecting new subscribers to a landing page where you can collect more information. Users will often take the extra step to answer a simple question like, "What made you decide to sign up today?" This can lead to interesting insights from new subscribers.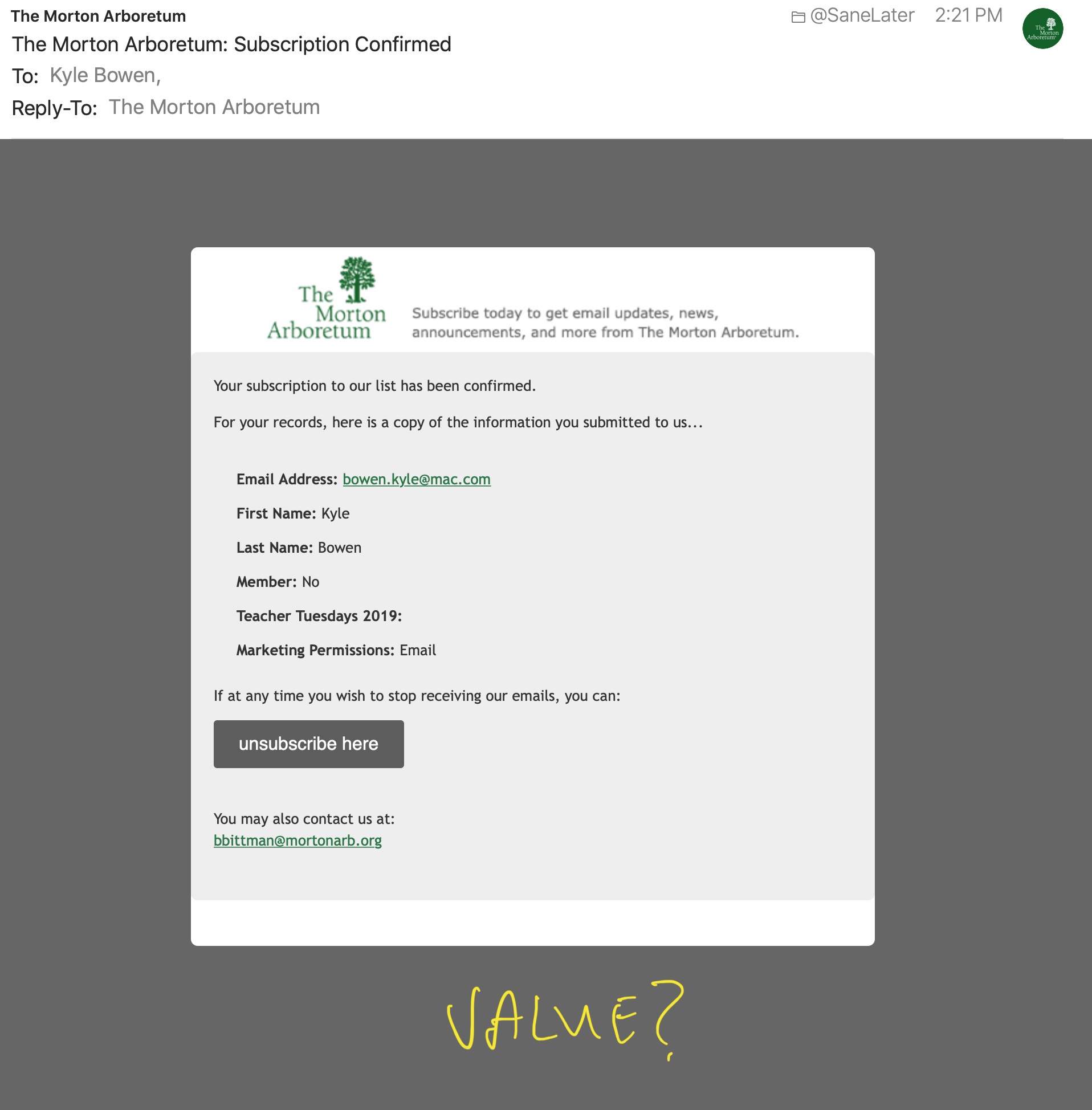 The welcome reiterates the confirmation, but doesn't communicate value or brand identity to the new subscriber.
Consider communicating an appeal for membership or donations in the welcome email.
As I think you're aware, a style guide for publishers and editors could be beneficial. For example, event pages adopt a very academic tone, using words like "Registration" and "Course Description" — even for events geared toward small children.
Event pages for families and kids reflects an academic tone.
As you consider a website redesign and a new CRM, you may want to adopt a RACI model for publishing and perhaps a tool like GatherContent for collaboration on future content.
Thank you
If you have any questions, please email me at kyle@superhelpful.com.