Live evaluation & user testing results for The Science Museum of Western Virginia
Call Follow-Up Notes
Great chatting with you, Koren! A few items that came up during our call:
Here's a guide on how to integrate various types of signup forms onto the site.

Here is Network Solutions guide to securing the site with SSL.

If you'd like to more thoroughly assess the information architecture for the website and identify the most intuitive navigation structure for visitors, I'd recommend a closed card sorting exercise. Let me know if you're interested in pursuing that in the future.

Below you'll find a downloadable recording of our call.
Testing summary
Here are some items testing uncovered that we may not have time to cover during our call.
Contrast and Scale
Koren, you mentioned the font is small on the site. I agree — for the new site, I recommend a minimum size of 16. You'll likely find that 18–21pt is best. The site will have to rely heavily on photos and images — at least until the font is more readable.
Testing suggests some users may struggle to read these sidebar navigation labels.
Of these labels/backgrounds, the Volunteer label is most legible because the scale of the pattern is small and the color is dark enough to provide enough contrast against the white text.
The top level navigation is also difficult to read. A quick fix would be to make the font black or very dark grey as opposed to light/medium grey.
Calendar of Events
The events calendar may lead visitors to believe that there are very few events happening at the museum. If there's no way to keep it up to date, it may be best to rely on the event pages with full descriptions. Its small size is also detrimental to usability.
Summer Camp
Users struggled to understand which camp programs a 6-year-old child could attend. There was some confusion as to what K-5 meant when classified as "Age". I heard questions like:
Is that Kindergarten through 5th grade or age 5?

(These were parents, so it seems to be an issue even for those with kids.)
The ability to filter by age group would be helpful, but consistent and descriptive labeling is necessary.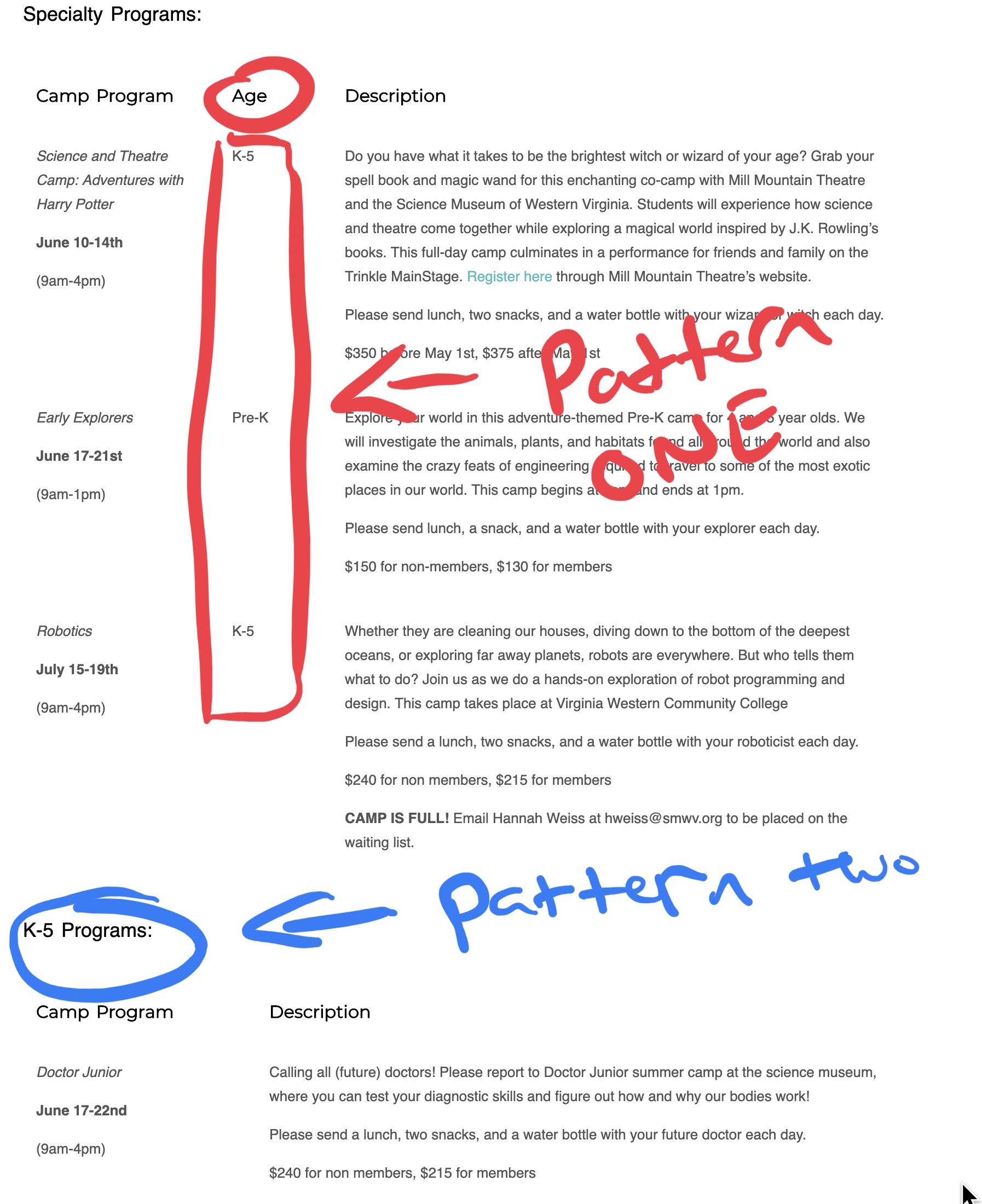 Switching classification patterns also threw users off.
Test either grouping all programs by age and labeling clearly by age, as in pattern two, or keep the "age" column throughout the page, as in pattern one.
Finding membership
Users do not think to look for membership under "Support" in the navigation. This may be because people think of membership as beneficial to themselves and not primarily as a way to support the museum. While there is a link to "become a member" in the sidebar, it's not clear without further investigation whether that sidebar menu is even useful or whether a better top-level navigation would better serve visitors.
I'd recommend running heatmaps and doing tree testing on the navigation … Short of that, consider breaking out membership as it's own top-level navigation link in the menu.
Promotion code
Unless you do offer promo codes for membership or other transactions, remove the option to enter a promo code during checkout. When users see that, they often scurry off to search the web for promo codes and get lost in scammy websites. A field for promo codes is an invitation for them to abandon the transaction process.
Communicate how email addresses will be used during registration.
Some people will think twice about registering if they don't know how their information will be used.
Checkout
There were a number of issues that surfaced while testing checkout. I believe we can cover some of these during our call.
Your videos
Feel free to watch and download the full videos below. (To download, you can click the share button while playing a video and choose "download".) The videos will be available here for at least 30 days from the date of our scheduled evaluation.
A few things to keep in mind about live evaluation user tests
The participants in these tests are not segmented or screened. The advantage here is that we can be sure these users are first-time visitors and are more likely to catch outstanding usability issues that would surface for anyone who might use your website.

The people taking these tests have at least some experience in testing websites. They are not professional designers, but they may have more experience using the web than some who will be on your site.

Since I have limited access to your payment gateway and website, we're not able to fully test transactions and email lifecycle content.

Occasionally, user tests reflect the personal opinions of the people taking the test. (Things like: "I like the color" or "I hate this font".) Take this with a grain of salt. I review these videos carefully and if I find that the personal taste of an individual reflects a real design or credibility issue that might hamper someone's interactions with the content, I'll let you know.
Future testing with actual users — like your members or patrons — will help uncover more opportunities to improve the website's content and user experience.