Analytics Analysis
Hello Nomi,
Your analytics account is all set up.
Here is a report showing some initial SEO findings, including site issues you may wish to address and rankings.
Things to keep an eye on
Note: I'm looking at the past 30 days, so this is a small sample. Nonetheless, here are some patterns to watch for in the future.
A site configuration issue
The website's bounce rate — that is, essentially, the rate that represents how many people visit one page on the site and leave without further engagement — is abnormally low. It is so low (1.66%) that it's certain that there is problem that needs to be addressed.
It's likely that the Google Analytics code may be installed on the site and/or CRM in two locations.
If the code is installed in two places, almost every visit may be counted as two views.
Bounce rate is an important metric. To fix this, I would see if the site's Google Analytics code (UA-20117616-1) is installed in Wix in two locations, or if perhaps it is installed on the website (Wix) and on Neon.
If so, try removing the code from Wix.
Let me know when you've done that, and I'll see if that fixes the issue.
Converting Traffic sources
Traffic from organic search makes up 61% of all traffic; Less than 2% of traffic comes from social media.
What's more important, though, is where converting traffic comes from — that is, where are the people who complete goals, like becoming a member or making a donation, come from?
This is hard to determine right now because it appears people who complete online forms are not yet being redirected to the /thanks.html page on the website. Once people begin to be redirected there, you'll be able to see where higher-value traffic is coming from.
Page weight and load times
We've talked about page load times before — Here's a look at average page load time for the most visited pages on the site.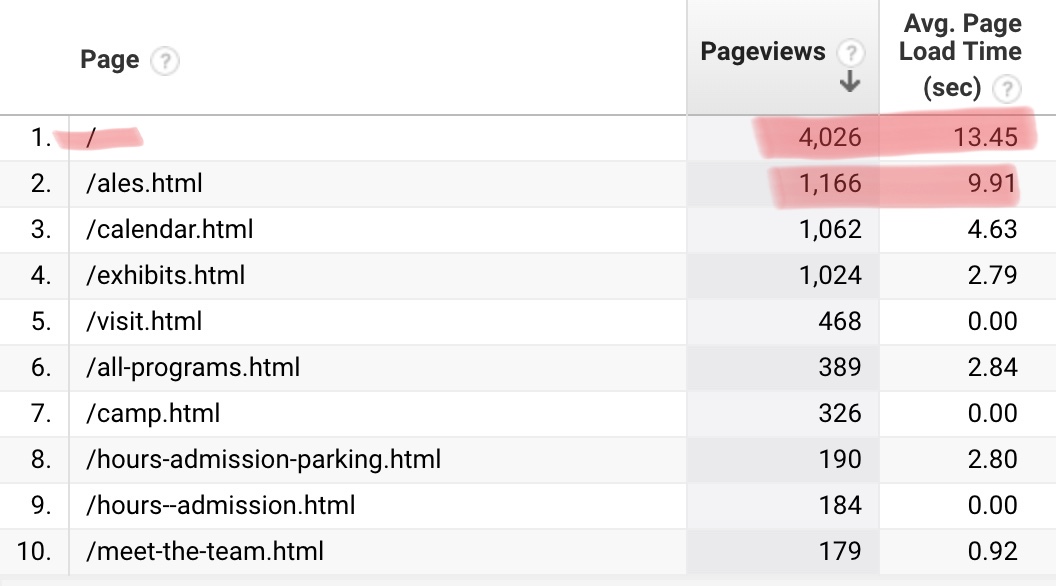 Some pages take a particularly long time to load.
Both the home page and the /ales page have a lot of images. The first step to resolve this would be to compress the images and re-upload them. (It would also be good to make a habit of compressing — I can understand the appeal of having plenty of images and am not suggesting to do away with them.) Here is a list of resources for compressing images on the web.
Discover what's new in your Google Analytics account
I've created some videos to walk you through the new information the account is now collecting.
As I explain in the first video below, you'll want to rely on the new "Filtered Reporting" view in the account from now on. I've configured this view to filter internal traffic, spam, and bots. I've also created some initial goals in this view.
Tip: Click the gear icon on any playing video to change the playback speed.
You should have a foundation from which to better study visitors online behavior now.
If you have any questions, you know how to reach me.
Thanks, Nomi!